Introducing LMS

FACTS LMS gives you an opportunity to use the Learning Management System (LMS) to interact with a classroom environment – all via the Internet!
FACTS LMS is a private and secure student area that will allow students to connect with students and teachers online, including accessing class materials, uploading assignments, participating in classroom discussions, and taking quizzes.
Here's how to access the LMS:
In Chrome, Firefox, Safari, or Internet Explorer go to lms.renweb.com
Type the school's District Code WA-TN
Type the student's Username.
Type the student's Password.
Click Login.
Upper School students:
You already have a username and password. Each student will need to use his/her own username and password for the LMS, rather than using the parent login.
If you have trouble logging in or using the LMS, please contact Mrs. Robin Reed (rreed@wamemphis.com).
Grammar School students:
Your username has been set up for you in the form firstname.lastname (so John Smith is john.smith). All passwords have been set to westminster2020 to start off. Please note we used the full first and last name on your student's file.
Parents, you have the ability to change the password from within the system. If you have trouble logging in or using the LMS, please contact Mrs. Annie Kistenmacher (akistenmacher@wamemphis.com).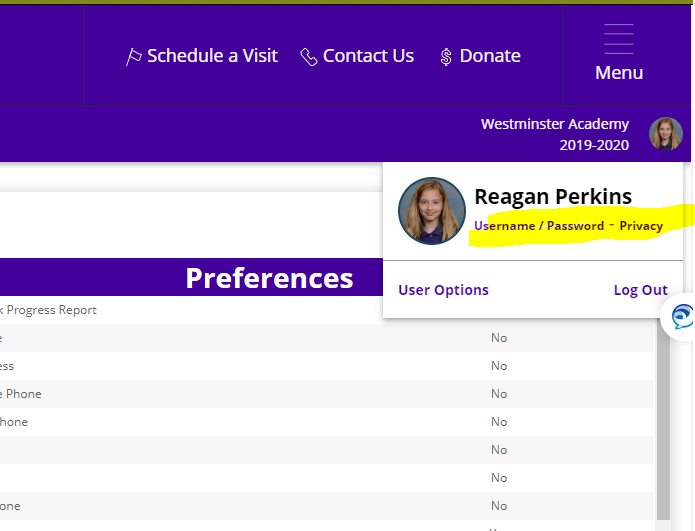 To reset the password for your Grammar School student, head to the Family Portal and log in as your student. Once inside, click on your student's photograph. This will bring up a screen where you can reset their username and/or password.
Grammar School Information
Grammar School teachers are loading assignments and projects into the Learning Management System (LMS). Assignments are set to be due on Fridays to give flexibility throughout the week to complete them. Work at your own pace! Teachers will continue to send weekly notes home by email and posted on the LMS on the HR (homeroom) tile that will have a general overview of the week, but specifics of assignments can be found in the LMS. Teachers can be reached via their school email address (first initial, last name @ wamemphis.com: jsmith@wamemphis.com). We are working on a teleconferencing system that will give you and students virtual face-to-face time, and will update you when that is completely in place.
Upper School Information
Upper School "classes" will meet on Mondays, Wednesdays, and Fridays. During times listed on the weekly schedule, teachers may host an online discussion using Google Meet or Zoom. Teachers may also post online lectures / videos for students to watch during this time. The use of this time depends on the course instructor and class plans will be posted on the RenWeb "Learning Management System." Weekly assignments for these classes are due on the same days.

Click here for the weekly schedule of classes.
Distance Learning FAQs
When will we return to school?

Will we have to have school in the summer?

Will the school remain accredited?

Why don't we stop school?

When will distance learning end?

and more...
Resources & Links
With kids at home and parents looking for educational activities, many of our favorite authors are offering online read alouds and activities on social media.

List of education companies offering free subscriptions due to school closings.