Westminster Academy Celebrates 25th School Year
September 06, 2020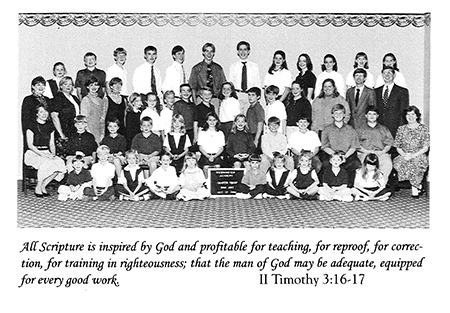 "Unless the Lord builds the house, those who build it labor in vain."
Psalm 127:1
"One word captures the theme of Westminster Academy's story: providence. God, in His perfect wisdom, chose to equip six couples with the desire and strength to fulfill His plan for a Classical Christian school in Memphis, Tennessee. 'Providence' simultaneously conveys the ideas of future knowledge and provision. God's providence means His divine plan for knowledge of the future, accompanied by the provision necessary to fulfill these future plans. God in his providence does not give a divine assignment to fallible humans and leave them to depend on their resources and ingenuity for its fulfillment. Rather, God involves His people in His work, providing every need in every dimension so that He might fulfill His plans. This is the story of Westminster Academy." – Excerpt from Even If I have to Walk There by Holley C. Halford
In 1996, six Memphis-area families desired something different, something greater, for the education of their children. They started Westminster Academy on September 6th of that year with 41 students and a deep passion to teach their children using a classical Christian education model. Much like the craziness of the 2020-2021 school year, those founding families faced a year of uncertainty that demanded full reliance on God for all of the pieces to fall into place, even going in to the weekend before the first day without a set location to hold class.

As is the hope for this 25th school year, God was honored in those early years. Cathy Boyd, who began teaching at Westminster that first year, remembers, "There were so many little blessings, and God's provision for our needs. He made it clear that it was His hand at work in so many of the details."
Twenty-five years and over 300 graduates later, Westminster Academy begins its 25th school year amidst a global pandemic and nation-wide upheaval. But despite the uncertain times, Headmaster Janikowsky notes that now is the time when Classical Christian Education (CCE) is needed more than ever.

"CCE is designed to teach children how to train their affections to value virtue and the true, the good, and the beautiful, and to examine history to be ready for the future. When you properly orient and ground a child in these amazing truths, that child will not only love to learn, but also grow into an adult who will be salt and light to the world," says Mr. Janikowsky. "These children will become adults truly capable of joyfully making a difference in a world that right now, seems overwhelmingly beset with problems. What an amazing gift!"

Indeed, as this 25th school year begins, let us hope that the words of Holley Halford, one of Westminster's first students, ring true: "We celebrate anniversaries so that we can look back and recognize all that God has done and those He has used to accomplish His will. May those of us who have served as founders and those who have come behind never forget God's provision and continue to praise Him for the great things He has done…May God be glorified because of the life of Westminster Academy." – excerpt from Even If I Have to Walk There.