Upper School
As students enter early high school, their view turns away from themselves and to the wider world. Students are taught to engage with the world through speech, writing, and service. They are taught to apply a socratic and biblical world-view to decisions of the past, problems of the present, and opportunities of the future. Our education prepares students for a lifetime of learning and engaging culture as mature, confident Christians.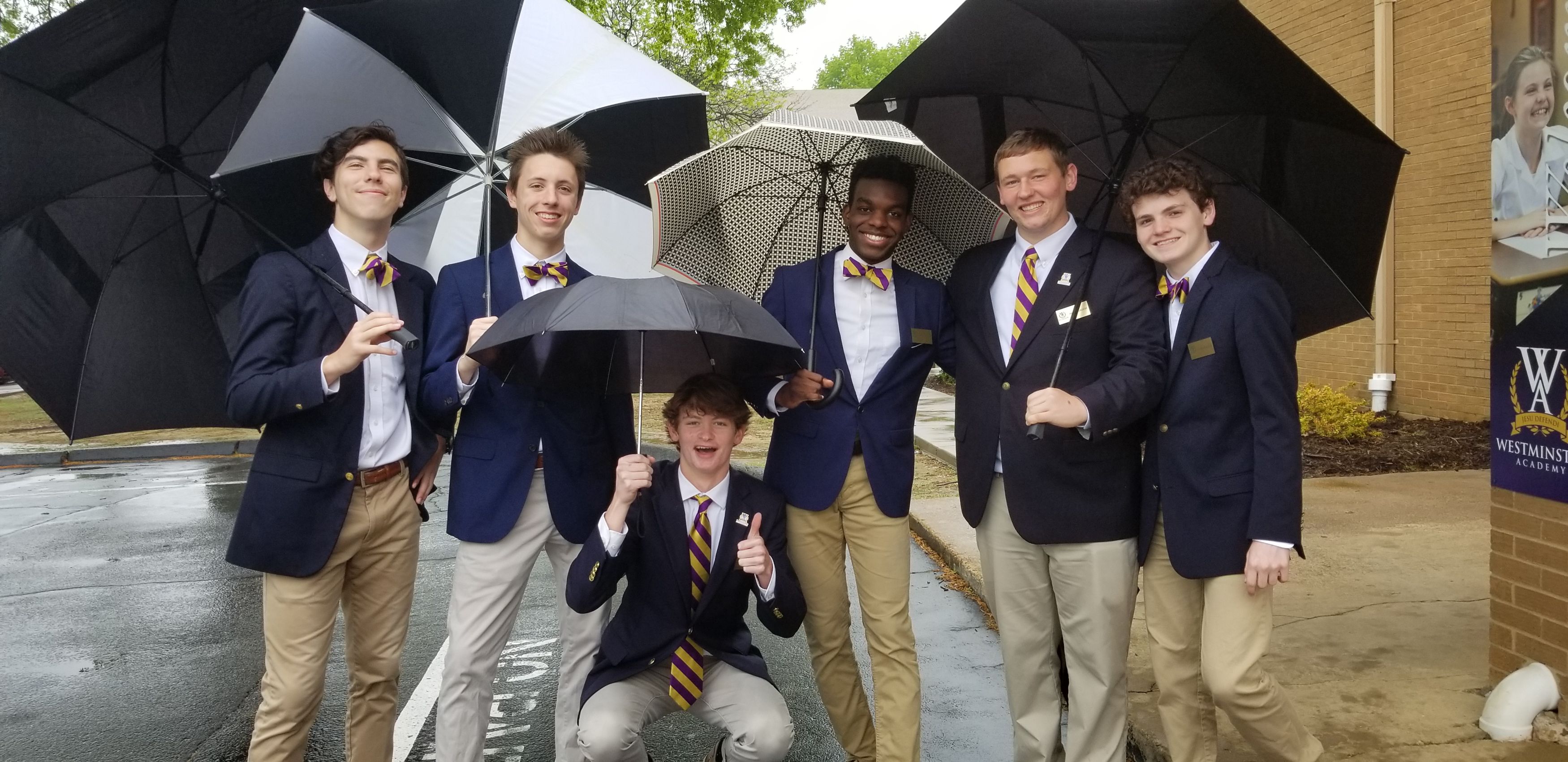 Why don't we offer AP courses?
AP courses are designed to accomplish two things for high school students:
Offer challenging, specialized content that adheres to national standardization
Give high school students a chance to earn college credit after taking a high school course.
We have intentionally decided not to offer AP courses because AP's pre-set curriculum is not always consistent with our educational philosophy. However, our students are allowed to take AP exams, even if they have not completed the specific course. Our students normally choose to take some AP tests in their senior year, earning potential college credit or the ability to skip basic college level classes. In 2017, 20 Westminster students took exams in 4 subjects. 72% of Westminster students scored a 3 or higher and 52% posted scores of 4 or higher. One of the 20 students taking AP tests in 2017 was recognized as an AP Scholar
Do we offer college guidance?
Westminster Academy has always believed the responsibility for choosing and applying to college belongs to the student. For this reason, the Director of College Guidance serves more as a pathway to information and meet with all seniors and juniors to create application files.
Westminster graduates have applied and been admitted to prestigious universities throughout the United States and abroad. Through the past five years over 20% of Westminster Seniors have received recognition by the National Merit Scholarship Corporation as National Merit Finalists or Commended Scholars.
Upper School Faculty & Staff
Name

Title

Collins, Jocelyn

Art and Capstone Faculty

Davis, Conner

Latin and History Faculty

Davis, Jonathan

Bible and Logic Faculty

Dillon, Kyle

Theology, French, and Capstone Faculty

Gregory, Jannica

English Faculty

Helton, Dean

Assistant Head of Athletics, Physical Education Teacher, Varsity Boys Basketball Coach

Janikowsky, Linda

Academic Coach

Jones, Maylon

Math Faculty

Kinney, Gregory

History Faculty

Marino, Christopher

Science Faculty

Morel, Victoria

History Faculty

O'Dell, Emily

English Faculty

Quiroz, Susan

Math Faculty

Read, Mary

Science Faculty

Reed, Robin

Assistant to Head of Upper School

Rhodes, Tirzah

Art Faculty

Roberts, Elissa

Science Faculty

Smith, Ginger

Music Teacher

Smith, Nate

Theology and Rhetoric Faculty

Stubblefield, Dee

English Faculty

Walker, Anne

Director of Student Life and Math Faculty

Woods, Adam

Head of Upper School