Upper School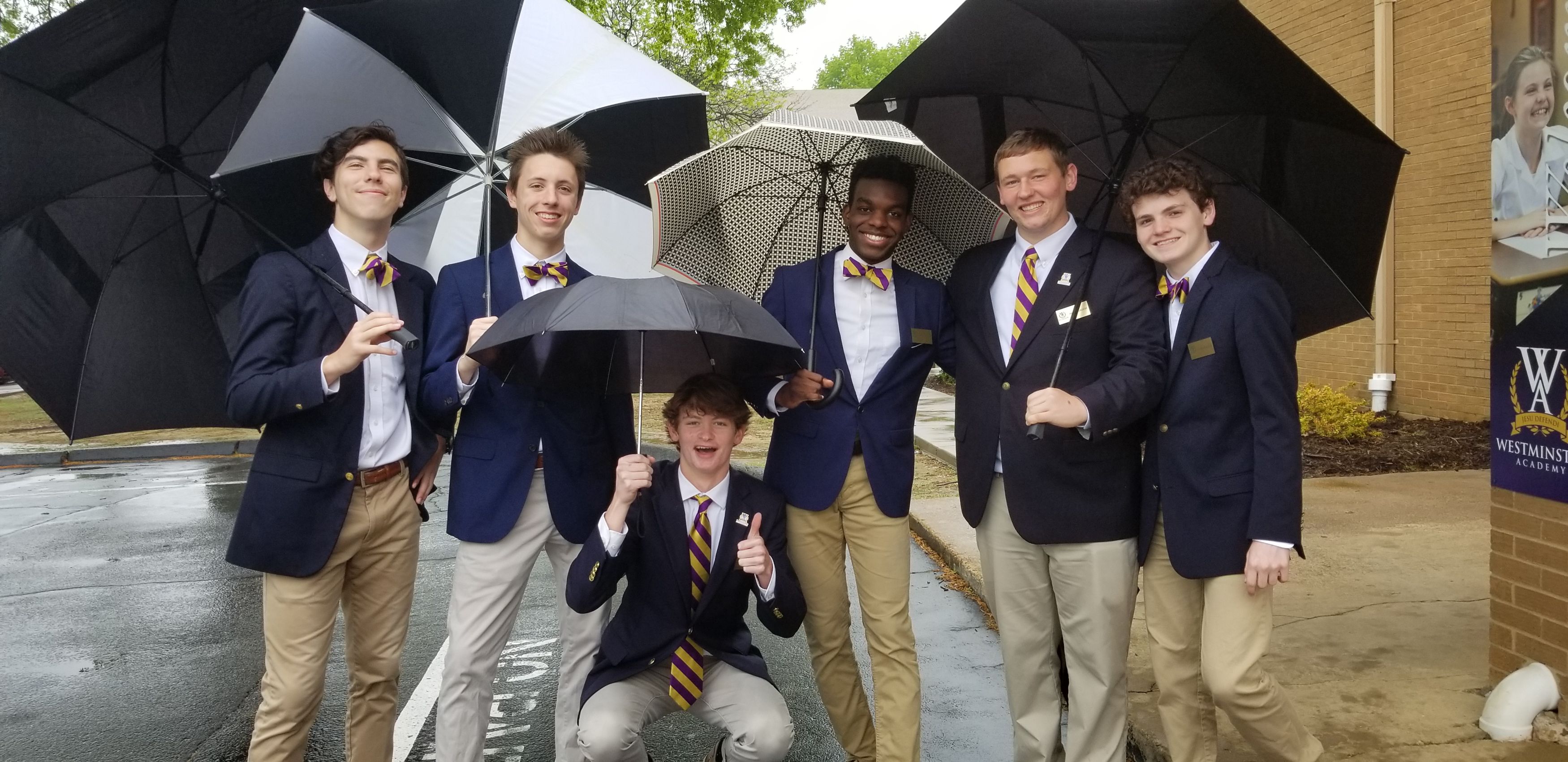 As students enter the Upper School they enter the "Dialectic" and "Rhetoric" stages of the Trivium. Emphasis is placed upon the development of critical thinking skills as students are taught to engage with the world through speech, writing, and service. In addition to honors level Math and Science classes, our Humanities program focuses on an intensive study of the great writings, people, events, works, and ideas that have formed and reformed civilization as we know it. These disciplines are tightly integrated and classic works are studied within their historical settings and from a traditional biblical perspective, which helps the students understand how these works and the people who wrote them were influenced by those historical settings. These courses also reveal the universal nature of the great works, which are classics precisely because they speak to all men and women through all ages. Theology, history, literature, and rhetoric courses have extensive reading, writing, discussion, and public speaking requirements.
7th – 9th Grade
As students mature and approach the middle school years (i.e., the "Dialectic" stage of the Trivium), they want to dissect ideas, analyze arguments, seek justice, and discover the reason behind everything. Debate and logic become important tools, so what better way to channel this natural development than through formal logic and debate classes? Teachers engage students in discussion and debate, teaching students to make logical arguments and helping them tell the difference between a logical and emotional response.
10th – 12th Grade
As students leave the Dialectic stage and approach the high school years (i.e. "Rhetoric" stage of the Trivium), they begin to wonder about the wider world. Students in the Rhetoric stage are taught to engage with the world through speeches, writing, and service. An emphasis is placed on teaching a biblical worldview and preparing them for higher education. Theology is taught in every classroom, but theology courses are specially applied in the Upper School along with a 10-day Capstone Trip to Italy during our students' senior year.
Honors Curriculum Designed To Equip Graduates
Our desire is for our graduates to be prepared for wherever the Lord leads them. Our curriculum is intentionally designed in a cohort-style, honors-level sequence. While we do not offer "AP Course", our students typically fare well on the AP exams. In 2017, 20 Westminster students took exams in 4 subjects. 72% of Westminster students scored a 3 or higher and 52% posted scores of 4 or higher. One of the 20 students taking AP tests in 2017 was recognized as an AP Scholar. Our average ACT is a 30 and we have a 100% college placement rate. Westminster graduates have applied and been admitted to prestigious universities throughout the United States and abroad. Through the past five years over 20% of Westminster Seniors have received recognition by the National Merit Scholarship Corporation as National Merit Finalists or Commended Scholars. In other words, our students are prepared for life and ready for God's call.
Upper School Faculty & Staff
Name

Title

Adams, Darren

Math Faculty

Armstrong, Allaina

Science Faculty

Brown, John

English Faculty

Callis, Amy

Physical Education Faculty and Coach

Callis, Jonathan

Head of Upper School

Collins, Jocelyn

Art and Capstone Faculty

Collins, Noah

Lead Strength and Conditioning Coach and Physical Education Faculty

Davis, Conner

Latin Faculty

Davis, Jonathan

Bible and Logic Faculty

Dillon, Kyle

Theology and Capstone Faculty

Fortune, Jonathan

History Faculty

Gregory, Jannica

English Faculty

Herring, Nancy

CLC Middle School Aide

Hollidge, Mary

Latin Faculty

Husband, Paul

Theology Faculty

Kinney, Gregory

History Faculty

Marino, Christopher

Science Faculty

Mathews, Becca

Math Faculty

O'Dell, Emily

Director of Student Life

Read, Mary

Director of College Guidance and Science Faculty

Reed, Robin

Assistant to Head of Upper School

Rhodes, Tirzah

Art Faculty

Roberts, Elissa

Science Faculty and Academic Support

Smith, Ginger

Music Teacher

Smith, Nate

Theology and Rhetoric Faculty

Spires, Brownie

History Faculty

Stevens, Seth

History Faculty

Stubblefield, Dee

English Faculty

Walker, Anne

Math Faculty

Wilson, Kameron

Middle School Strength & Conditioning Coach and PE Faculty