Our People
Who are our people? Westminster has been blessed with some of the best and brightest faculty. All teachers have a love for the Lord, their students, their subject, and bring Christ into the classroom with enthusiasm. Our faculty are life-long learners and have over 350 years of combined classical Christian education experience.
With 410 graduates since 2000, our alumni have gone on to attend colleges and universities around the world, including Oxford and Columbia University.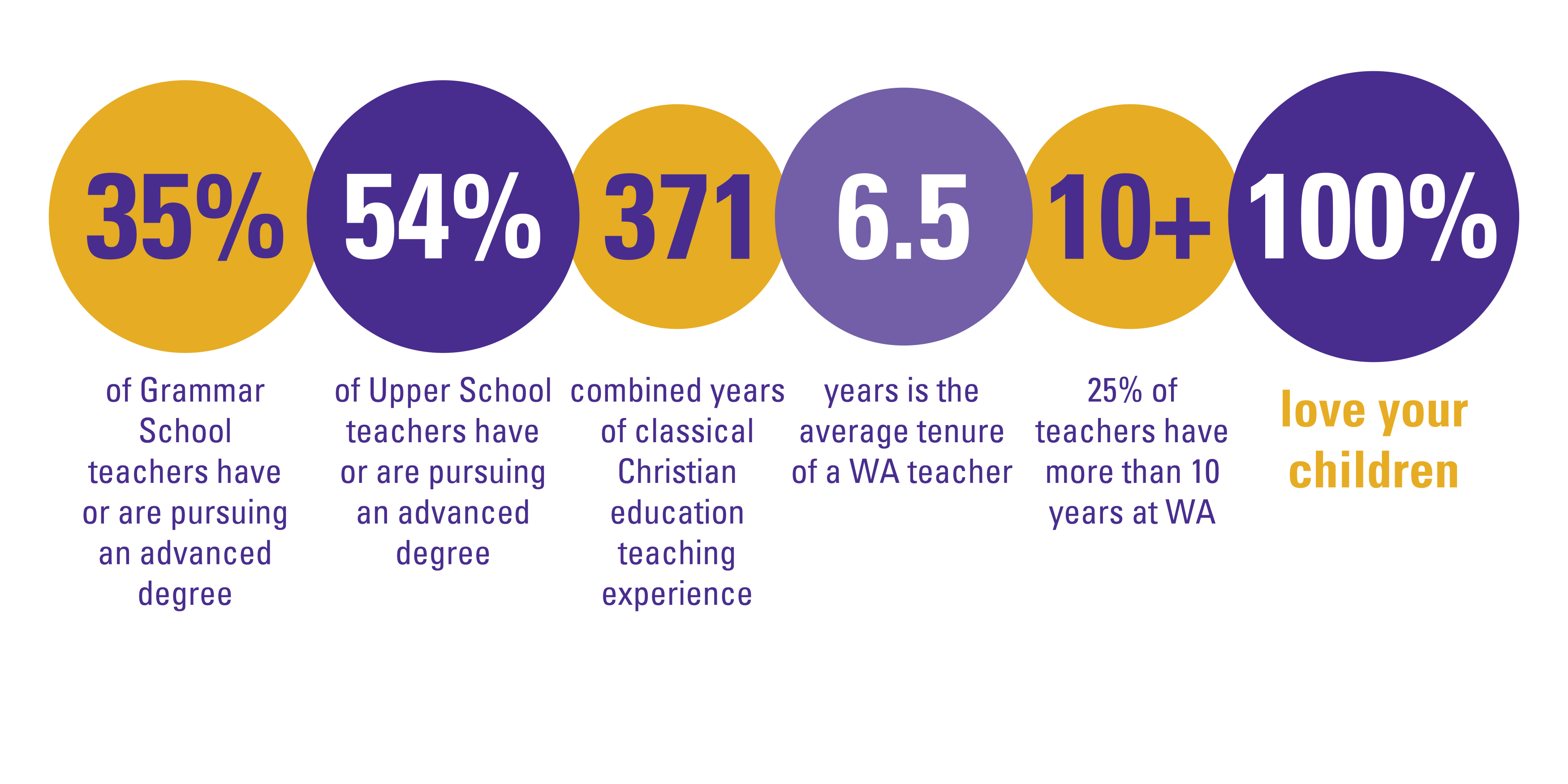 Our Vision for Faculty
We desire our faculty to be professional and diligent in their work, gifted in teaching, loving their students, loving their subjects, and most importantly, loving the Lord in front of their students. We desire that they clearly understand classical education, how it is implemented in their classrooms, and how their work fits into the whole of the trivium; that they possess a lifelong hunger to learn and grow; and that they have opportunity to grow in their gifts and skills and to be refreshed and renewed. We desire to see them coach and mentor new staff. We desire faculty to serve as academic coaches to students and to identify, nurture, and develop the intellectual, physical, and spiritual gifts of students. We look to see them continue to mature in Christ, to participate joyfully in Christian community through the local church, and to grow in their knowledge of God and the Scriptures.
Administrative Team
| | Name | Title | |
| --- | --- | --- | --- |
| | Abrahams, Joe | Athletic Director | |
| | Callis, Jonathan | Head of Upper School | |
| | Hall, Holt | Director of Operations | |
| | Janikowsky, Ralph | Headmaster | |
| | Moore, Taylor | CFO | |
| | Nagem, Julie | Director of Marketing and Communication | |
| | Newman, Emily | Head of Grammar School | |
| | Pang, Mary Rachel | Director of Development and Alumni Relations | |
| | Ray, Sharon | Director of Admission | |
Support Staff
| | Name | Title | |
| --- | --- | --- | --- |
| | Boyd, Cathy | Reading Specialist | |
| | Cashman, Betsy | Counselor | |
| | Clear, Mark | Custodian | |
| | Green, Jenna | Third Grade Aide & Aftercare Assistant | |
| | Halford, Vicki | Librarian | |
| | Herring, Nancy | CLC Middle School Aide | |
| | Hughes, Lindsey | Admission Coordinator | |
| | Kimbro, Sarah | Reading Specialist | |
| | Kuku, Rawda | Director of Aftercare and Enrichments | |
| | O'Dell, Emily | Director of Student Life | |
| | Read, Mary | Director of College Guidance and Science Faculty | |
| | Reed, Robin | Assistant to Head of Upper School | |
| | Samuels, April | Business Office Assistant | |
| | Scott, Karla | Assistant to the Head of Grammar School | |
| | Thompson, Jennifer | Assistant to Athletics & Admissions | |
| | Turner, Amber | Assistant to Director of Development | |
| | Turner, Debbie | Purchasing | |
| | Walker, Kathryn | Assistant to the Headmaster | |
| | Warren, Sabrina | School Nurse | |
Grammar School Faculty & Staff
| | Name | Title | |
| --- | --- | --- | --- |
| | Adams, Mary | Teacher's Aide | |
| | Anthony, Ashley | Kindergarten Teacher | |
| | Bell, Matthew | Latin Teacher | |
| | Bolton, Marti | Fourth Grade Teacher | |
| | Boyd, Cathy | Reading Specialist | |
| | Callis, Amy | Physical Education Faculty and Coach | |
| | Clowers, Elaine | Music Teacher | |
| | Culp, Patricia | Fourth Grade Teacher | |
| | Dacus, Ashleigh | Junior Kindergarten Teacher | |
| | Davis, Julie | Third Grade Teacher | |
| | Dickerson, Kristin | Fourth Grade and Science Aide | |
| | Garrett, Anne | Second Grade Teacher | |
| | Grantham, Mary-Grace | First Grade Teacher | |
| | Green, Jenna | Third Grade Aide & Aftercare Assistant | |
| | Hale, Tina | Junior Kindergarten Aide | |
| | Halford, Vicki | Librarian | |
| | Hawkins, Meredith | Sixth Grade Teacher | |
| | Hickman, Sissy | Fifth Grade Teacher | |
| | Hilliard, Lisa | First Grade Teacher | |
| | Hysong, Sarah | Third Grade Teacher | |
| | Johnson, Amanda | Second Grade Aide | |
| | Jones, Rebecca | Second Grade Aide | |
| | Kimbro, Sarah | Reading Specialist | |
| | Martin, Natalie | Sixth Grade Teacher & US Math Faculty | |
| | McDaniel, Jessica | Second Grade Teacher | |
| | Miller, Kristen | Kindergarten and WEE Teacher | |
| | Newman, Emily | Head of Grammar School | |
| | Ozier, Lindsey | Art Teacher | |
| | Peckham, Elizabeth | Fifth Grade Teacher | |
| | Phillips, Stephanie | Academic Support Coordinator | |
| | Price, Michael | Science Teacher | |
| | Quiroz, Susan | First Grade Aide | |
| | Ray, Carrie | Fifth/Sixth Grade Aide | |
| | Read, Kenneth | Sixth Grade Teacher | |
| | Reed, Garrett | PE Faculty and Coach | |
| | Scott, Karla | Assistant to the Head of Grammar School | |
| | Sherrod, Melissa | Junior Kindergarten Aide | |
| | Smith, Ginger | Music Teacher | |
| | Smith, Laurel | Second Grade Teacher | |
| | Vigus, Hannah | Kindergarten and WEE Aide | |
| | Williams, Shannon | Junior Kindergarten Teacher | |
| | Wilson, Kameron | Middle School Strength & Conditioning Coach and PE Faculty | |
| | Young, Jenny | First Grade Aide | |
Upper School Faculty & Staff
| | Name | Title | |
| --- | --- | --- | --- |
| | Adams, Darren | Math Faculty | |
| | Armstrong, Allaina | Science Faculty | |
| | Brown, John | English Faculty | |
| | Callis, Amy | Physical Education Faculty and Coach | |
| | Callis, Jonathan | Head of Upper School | |
| | Collins, Jocelyn | Art and Capstone Faculty | |
| | Collins, Noah | Lead Strength and Conditioning Coach and Physical Education Faculty | |
| | Davis, Conner | Latin Faculty | |
| | Davis, Jonathan | Bible and Logic Faculty | |
| | Dillon, Kyle | Theology and Capstone Faculty | |
| | Fortune, Jonathan | History Faculty | |
| | Gregory, Jannica | English Faculty | |
| | Herring, Nancy | CLC Middle School Aide | |
| | Hollidge, Mary | Latin Faculty | |
| | Husband, Paul | Theology Faculty | |
| | Kinney, Gregory | History Faculty | |
| | Marino, Christopher | Science Faculty | |
| | Mathews, Becca | Math Faculty | |
| | O'Dell, Emily | Director of Student Life | |
| | Read, Mary | Director of College Guidance and Science Faculty | |
| | Reed, Robin | Assistant to Head of Upper School | |
| | Rhodes, Tirzah | Art Faculty | |
| | Roberts, Elissa | Science Faculty and Academic Support | |
| | Smith, Ginger | Music Teacher | |
| | Smith, Nate | Theology and Rhetoric Faculty | |
| | Spires, Brownie | History Faculty | |
| | Stevens, Seth | History Faculty | |
| | Stubblefield, Dee | English Faculty | |
| | Walker, Anne | Math Faculty | |
| | Wilson, Kameron | Middle School Strength & Conditioning Coach and PE Faculty | |